PEEK Tubing

PEEK tubing provides excellent chemical resistance combined with heat resistance to 480° F. Used in steam or boiling water applications,
PEEK experiences no significant decline in its properties. Underwriters Laboratories (UL) Ratings and Food and Drug Administration (FDA) Compliant and
U.S. Department of Agriculture (USDA) Compliant and 3A Sanitary Standards (3A) Compliant.
PEEK Tubing Technical Data Sheet
Applications:
High pressure liquid/gas chromatography parts

Chemical pump gears & wear plates
Plasma arc torch bodies
Insulators & connectors
Steam cleaning equipment
Automotive manual
Transmission thrust washers
PEEK is used in harsh applications in the Chromatography industry.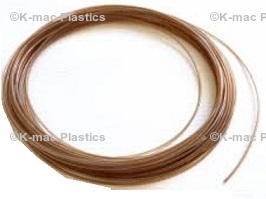 Coiled PEEK Tolerances
O.D.
I.D.
O.D.
I.D.
.062"
.006"
±.003
±.002
.062"
.010"
±.003
±.002
.062"
.020"
±.003
±.002
.062"
.030"
±.003
±.002
.062"
.040"
±.003
±.003
.077"
.062"
±.004
±.003
.125"
.062"
±.005
±.004
.125"
.080"
±.005
±.005
.125"
.093"
±.005
±.005