Polycarbonate Tubes

For theimpact strength of metal, specify Polycarbonate Tube. Made from
FDA-approved ingredients, PC tube gives extraordinary design and fabrication opportunities. It can be machined, drilled, cut and sawed, and is easily joined with solvents and adhesives. Weather Resistant, Underwriters Laboratories (UL) Ratings and Food and Drug Administration (FDA) Compliant. Made from GE Lexan® 124 and 104. UV stabilized Grade available on a custom basis, call for pricing and minimums.
Polycarbonate Tubes Technical Data Sheet
Larger Photos - 1/16", 1/8" and 1/4" Wall Thickness's
1/4" Wall Thickness Tubes (note: larger diameters have heavier extrusion lines, and less clarity.
NOTE: Tube standard length: 8ft. Other sizes available.
Polycarbonate Tubes are not Pressure or Vacuum Rated
Tolerances: Tubes
.375"-2.00" OD Dia Tol +/-.025", ID Tol +/-.025"
2.125"-5.00" OD Dia +/-.045", ID Tol ±.035"
5.25"-7.75" OD Dia +/-.070", ID Tol ±.060"
8.00"-9.00" +Dia +/-.095", ID Tol ±.100"
10.0"-14.0" Dia +/-.250"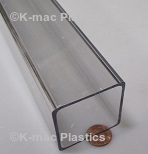 Polycarbonate Extruded Square Tubing, Clear

Wall Thickness Tolerance : All Sizes : +/-.008"

6 Foot Standard Lengths

Stock Order # / Image
Outside Width Inches
Inside Width Inches
Wall Thickness Inches
Width Tolerance
Price Each
Length Ft
Purchase Online
KTBS-086
0.500
0.375
0.062
+/-.010"
$9.31
6
Purchase
KTBS-120
0.625
0.375
0.125
+/-.020"
$45.52
8
*
KTBS-087
0.750
0.625
0.062
+/-.020"
$14.65
6
Purchase
KTBS-121
0.750
0.500
0.125
+/-.020"
$48.48
8
*
KTBS-088
1.00
0.840
0.080
+/-.020"
$22.77
6
Purchase
KTBS-122
1.00
0.750
0.125
+/-.020"
$53.12
8
*
KTBS-089
2.00
1.840
0.080
+/-.030"
$45.54
6
Purchase
KTBS-123
2.00
1.750
0.125
+/-.030"
$124.72
8
*
Polycarbonate Tubes Mfg'd by FuturPlast