PBT Rods (Hydex® 4101)

PBT rods Hydex® 4101 is a polyester that is less brittle, more chip resistant, and easier to machine than PET. PBT has the strength & wear resistance of general purpose nylon, and a higher continuous use temperature (240° F) It is FDA/NSF/3A Compliant.
Hydex 4101 represents a family of stock shape plastics with elevated performance over PET-P, Acetal and Nylon. Hydex 4101 is a PBT Polyester with an outstanding set of properties that include; wear resistance, chemical resistance and toughness. In direct comparison to other commonly used plastics, Hydex 4101 has:
Improved Wear and Chemical Resistance Versus Acetal
Hydex 4101 is compatible with chemicals having a pH range of 2.0 - 9.0, Acetal's range is 4.0 to 9.0
Hydex 4101 can withstand repeated "CIP" chemical washdown without affecting material performance. Acetal degrades upon repeated contact with aqueous chlorine solutions.
Hydex 4101 has 30% higher limiting PV than Delrin AF
Hydex 4101 has about two times better wear factor than Acetal
Hydex 4101 is approved for direct food contact, Delrin AF is not
Superior Dimensional Stability Over Nylon
Hydex 4101 has moisture absorption of 0.07%
Nylon has moisture absorption 15 times greater than Hydex, and can exhibit significant dimensional changes in use
Best Wear and Lubricity When Compared to PET-P
Hydex 4101 has 20% greater impact strength than PET-P
Hydex 4101 has about 50% better wear factor than PET-P
Hydex 4101 has more than twice the LPV performance than PET-P
Hydex 4101 has 50% lower coefficient of friction than PET-P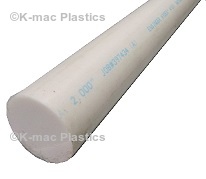 ASTM-D-5927 TPES0211, 1CFR177.1630, ASTM D-6261 S-TPES0111
Thickness Tolerances
Size
Tolerance
1-1/2" & 2"
+.002/-.000
2-1/2"
+.025/-.000
3"
oversize
Both Hydex® 4101 is approved for direct food contact (FDA, USDA, and 3A Dairy compliant).
TYPICAL PROPERTIES of HYDEX®4101 PBT-P


ASTM or UL test
Property
Hydex® 4101
Hydex® 4101L
PHYSICAL
D792
Density (lb/in³)
(g/cm³)
0.047
1.31
0.049
1.36
D570
Water Absorption, 24 hrs (%)
0.07
0.07
MECHANICAL
D638
Tensile Strength (psi)
9,400
7,200
D638
Tensile Modulus (psi)
425,000
380,000
D638
Tensile Elongation at Break (%)
50
40
D790
Flexural Strength (psi)
11,600
10,600
D790
Flexural Modulus (psi)
420,000
390,000
D695
Compressive Strength (psi)
11,000
11,000
D695
Compressive Modulus (psi)
-
-
D785
Hardness, Rockwell
R120
R110
D256
IZOD Notched Impact (ft-lb/in)
0.7
0.7
THERMAL
D696
Coefficient of Linear Thermal Expansion
(x 10-5 in./in./°F)
4.5
5.0
D648
Heat Deflection Temp (°F / °C)
at 264 psi

200 / 93

195 / 89
D3418
Melting Temperature (°F / °C)
420 / 215
420 / 215
-
Max Operating Temp (°F / °C)
221 / 105
221 / 105
C177
Thermal Conductivity
(BTU-in/ft²-hr-°F)
(x 10-4 cal/cm-sec-°C)

-
-

-
-
UL94
Flammability Rating
HB
HB
ELECTRICAL
D149
Dielectric Strength (V/mil) short time, 1/8" thick
410
-
D150
Dielectric Constant at 60 Hz
3.3
-
D150
Dissipation Factor at 60 Hz
0.002
-
D257
Volume Resistivity (ohm-cm)at 50% RH
4.5 x 1016
-