Plastic Extruded Acrylic Tubes PMMA
Acrylic Tubes and Shapes
Acrylic shapes have been part of a wide range of applications in industry, product design, home furnishings, and displays. Clear, lightweight acrylic shapes enhance the beauty of any exhibit. Acrylic is easily fabricated without costly tooling charges, can be heat formed for a variety of desired effects, and is easily printed or embossed upon. Two grades are available; extruded and cast.
Extruded offers good clarity at an economical price and Cast offers consistent and superior clarity for more high tech applications. There are over 75 sizes of tubing, rods, shapes and geometric forms. Custom forms are available on request.
Acrylic Tubes
This UV stabilized tubing will not yellow or brittle significantly on exposure to sunlight.
Cast Acrylic Tubes Square Extruded Acrylic Tubes
Acrylic Rods Technical Data Sheet
Acrylic Chemical Resistance Chart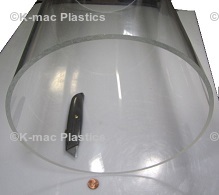 Cast Acrylic Round Tubes, Clear

5 Foot Standard Lengths, Unless Noted

* Available in 6 Foot Lengths

Part #
OD (in.)
ID (in.)
Price Per Foot
Order Online
KM-829
1.50
1.00
$179.46
Add to Order
KM-830
1.50
1.125
$137.16
Add to Order
KM-23683
1.50
1.187
$164.56
Add to Order
KM-831
1.50
1.25
$142.20
Add to Order
KM-832
1.75
1.250
$182.06
Add to Order
KM-833
1.75
1.375
$170.76
Add to Order
KM-834
1.75
1.50
$148.92
Add to Order
KM-835
2.00
1.50
$178.14
Add to Order
KM-836
2.00
1.625
$173.98
Add to Order
KM-837
2.00
1.75
$151.60
Add to Order
KM-838
2.25
1.75
$131.36
Add to Order
KM-839
2.25
2.00
$128.86
Add to Order
KM-840
2.50
2.00
$190.08
Add to Order
KM-841
2.50
2.125
$174.50
Add to Order
KM-842
2.50
2.25
$160.16
Add to Order
KM-843
2.75
2.25
$193.32
Add to Order
KM-844
2.75
2.375
$193.32
Add to Order
KM-845
2.75
2.50
$161.02
Add to Order
KM-846
3.00
2.50
$194.30
Add to Order
KM-849
3.00
2.625
$179.72
Add to Order
KM-850
3.00
2.75
$162.84
Add to Order
KM-851
3.25
2.75
$195.12
Add to Order
KM-852
3.25
2.875
$180.60
Add to Order
KM-853
3.25
3.00
$167.46
Add to Order
KM-854
3.50
3.00
$197.60
Add to Order
KM-855
3.50
3.125
$179.50
Add to Order
KM-856
3.50
3.25
$171.58
Add to Order
KM-5495
3.75
3.25
$191.72
Add to Order
KM-2742
3.75
3.375
$188.56
Add to Order
KM-2737
3.75
3.50
$188.56
Add to Order
KM-857
4.00
3.25
$386.50
Add to Order
KM-861
4.00
3.50
$204.16
Add to Order
KM-862
4.00
3.625
$190.58
Add to Order
KM-860
4.00
3.75
$176.06
Add to Order
KM-2748
4.25
3.50
$196.00
Add to Order
KM-2746
4.25
3.75
$198.82
Add to Order
KM-2743
4.25
3.875
$191.84
Add to Order
KM-2738
4.25
4.00
$179.72
Add to Order
KM-864
4.50
3.75
$408.04
Add to Order
KM-865
4.50
4.00
$203.66
Add to Order
KM-866
4.50
4.125
$199.20
Add to Order
KM-867
4.50
4.25
$181.74
Add to Order
KM-2750
4.75
4.00
$415.06
Add to Order
KM-2747
4.75
4.25
$207.88
Add to Order
KM-2744
4.75
4.375
$200.90
Add to Order
KM-2739
4.75
4.50
$200.90
Add to Order
KM-868
5.00
4.25
$434.20
Add to Order
KM-869
5.00
4.50
$212.20
Add to Order
KM-870
5.00
4.625
$203.08
Add to Order
KM-871
5.00
4.75
$187.42
Add to Order
KM-2758
5.25
4.875
$222.60
Add to Order
KM-2775
5.25
4.50
$448.16
Add to Order
KM-2767
5.25
4.75
$234.74
Add to Order
KM-2751
5.25
5.00
$194.96
Add to Order
KM-872
5.50
4.75
$440.88
Add to Order
KM-873
5.50
5.00
$232.92
Add to Order
KM-874
5.50
5.125
$116.36
Add to Order
KM-875
5.50
5.250
$199.96
Add to Order
KM-2776
5.75
5.00
$260.00
Add to Order
KM-2768
5.75
5.25
$234.96
Add to Order
KM-2759
5.75
5.375
$208.16
Add to Order
KM-2752
5.75
5.50
$217.96
Add to Order
KM-876
6.00
5.25
$518.24
Add to Order
KM-877
6.00
5.50
$227.40
Add to Order
KM-878
6.00
5.625
$202.44
Add to Order
KM-879
6.00
5.575
$213.54
Add to Order
KM-665
6.00
5.750
$213.54
Add to Order
KM-2777
6.50
5.75
$398.00
Add to Order
KM-2769
6.50
6.00
$145.64
Add to Order
KM-2760
6.50
6.125
$133.08
Add to Order
KM-2753
6.50
6.25
$122.49
Add to Order
KM-880
7.00
6.25
$897.92
Add to Order
KM-882
7.00
6.625
$239.38
Add to Order
KM-881
7.00
6.50
$263.70
Add to Order
KM-883
7.00
6.75
$243.47
Add to Order
KM-2778
7.50
6.75
$653.50
Add to Order
KM-2770
7.50
7.00
$176.22
Add to Order
KM-2761
7.50
7.125
$141.04
Add to Order
KM-2754
7.50
7.25
$132.93
Add to Order
KM-886
8.00
7.625
$255.20
Add to Order
KM-884
8.00
7.25
$939.32
Add to Order
KM-885
8.00
7.75
$345.84
Add to Order
KM-887
8.00
7.75
$247.18
Add to Order
KM-2779
8.50
7.75
$431.26
Add to Order
KM-2771
8.50
8.00
$148.00
Add to Order
KM-2762
8.50
8.125
$156.00
Add to Order
KM-2756
8.50
8.25
$126.00
Add to Order
KM-2763
9.00
8.625
$334.26
Add to Order
KM-668
9.00
8.75
$302.94
Add to Order
KM-2780
9.00
8.25
$1,140.56
Add to Order
KM-2772
9.00
8.50
$304.50
Add to Order
KM-2781
9.50
8.75
$1,180.08
Add to Order
KM-2773
9.50
9.00
$446.44
Add to Order
KM-2764
9.50
9.125
$428.09
Add to Order
KM-2757
9.50
9.25
$263.96
Add to Order
KM-5259
10.00
8.00
$9,654.04
Add to Order
6 Ft. Lengths Only
KM-2782
10.00
9.25
$689.98
Add to Order
KM-889
10.00
9.50
$1,086.72 (2 Ft Length)
Add to Order
KM-2765
10.00
9.625
$288.53
Add to Order
KM-2783
12.00
11.25
$1,011.39
Add to Order
KM-901
12.00
11.50
$2,179.08 (2 Ft Length)
Add to Order
KM-2766
12.00
11.625
$413.50
Add to Order
KM-902Y
13.00
12.25
$7,542.00 (90" Length)
Add to Order
KM-23684
14.00
13.25
$1,688.73 (5 Ft Length)
Add to Order
KM-23681
14.00
13.625
$3,327.15 (5 Ft Length)
Add to Order
KM-907
15.00
14.50
$1,821.80 (2 Ft Length*)
Add to Order
KM-908
15.00
14.75
$1,618.04 (2 Ft Length*)
Add to Order
KM-909
16.00
15.00
$3,668.00 (2 Ft Length*)
Add to Order
KM-910
16.00
15.50
$2,711.52 (2 Ft Length*)
Add to Order
KM-912
18.00
17.50
$2,290.37 (2 Ft Length*)
Add to Order
KM-590X
20.00
18.00
$11,898.25 (4 ft Length)
Crating Charge Applies
KM-5366P
20.00
19.00
$9,757.75 (4 ft Length)
Crating Charge Applies
KM-5366
20.00
19.50
$17,148.52 (4 ft Length)
Crating Charge Applies
KM-5356R
24.00
22.50
$10,147.50 ( 4 Ft Length)
Crating Charge Applies
KM-7980
24.00
23.00
$7,024.15 (4 ft Length)
Crating Charge Applies
KM-5356P
27.50
26.00
$23,773.05 (84" Length)
Crating Charge Applies
KM-5356N
27.50
26.50
$17,003.70 (84" Length)
Crating Charge Applies
KM-913G
27.50
27.00
$13,939.00 (4 Ft Length)
Crating Charge Applies
KM-115T
32.60
31.85
$9,373.30 (4 Ft Length)
Crating Charge Applies
KM-913Q
32.60
32.10
$8,393.77 (4 Ft Length)
Crating Charge Applies
KM-23309
36.00
35.00
$13,241.80 (4 Ft Length)
Crating Charge Applies
KM-5367
44.70
43.95
$23,841.85 (90" Length)
Crating Charge Applies
KM-5333
44.70
43.20
$36,969.05 (90" Length)
Crating Charge Applies
KM-5368
44.70
43.70
$29,685.65 (90" Length)
Crating Charge Applies
KM-5358
44.70
42.70
$44,498.70 (90" Length)
Crating Charge Applies
KM-5356
72.00
70.00
$50,283.75 (90" Length)
Crating Charge Applies
KM-5356T
96.00
94.00
$98,262.00 (90" Length)
Crating Charge Applies
Wall Thickness Tolerances:

.250" (+/-.045")

.375" (+/-.055")

.500" (+/-.065")

.750" (+/-.090")

Outside Diameter Tolerances:




1.50" to 3.00" (+/-.020")




3.25" to 3.75" (+/-.030")




4.0" to 12.0" (+/-.065")




13" to 18" (+/-.080")




20" to 27.5" (+/-.100")




32.6" (+.250"/-.100")




36" (+/-.100")




42.5" (+0.00"/-.280")




44.7" to 60" (+/-.100")




72" (+.100"/-.300")




96" (+.100"/-.500")